Guide to
Milwaukee Athletic Club Membership
Explore the MAC Lifestyle
Discover the premier athletic and social club right in the heart of Milwaukee. Our freshly-renovated space provides members with a vibrant, modern club experience: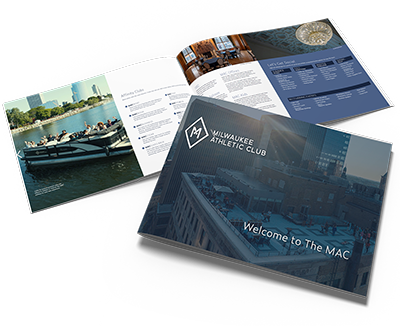 Professional networking opportunities

Business meeting spaces

Upscale dining at The Roof

Craft cocktails at the Elephant Room

Top-notch fitness facilities,
equipment, & trainers
Instagrammable wedding venue

Specialized affinity clubs

MAC Kids programming

Rooftop Terrace for classes & events

Live music and performances

Speaker series events
Virtual golf suites

20-meter saltwater pool

Himalayan sea salt saunas

Guest rooms & MAC residences

Service and charity opportunities
Download our exclusive guide that covers membership packages, pricing, and amenities in detail.
Innovation, community, and connection form the backbone of our club, which was brought to life by some of Milwaukee's most creative and intelligent thinkers. We're excited to welcome you!